TRUMPETING HERB ALPERT'S FEATS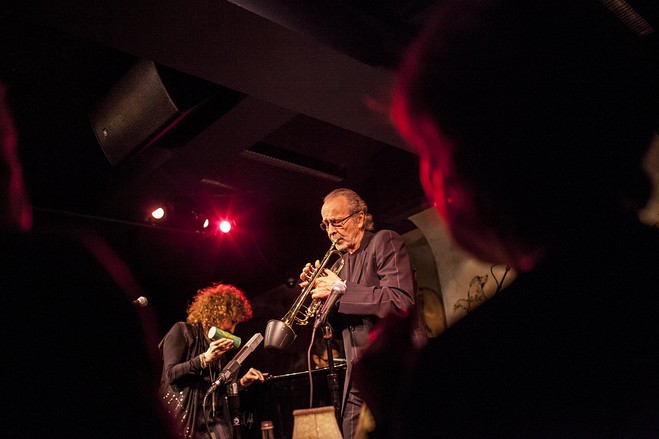 I wasn't always the hip, pipe-smoking, turtleneck-wearing cat you behold today. It took me until the '70s to become a child of the '60s.
Through the entire rock 'n' roll explosion, when my friends were religiously attending acid-fueled concerts at the Fillmore East, I owned a total of two records: the Surfaris' "Wipeout" and the Kinks' "A Well Respected Man." Both were 45s and I acquired them at summer camp when I was 12.
Nonetheless, a few bands penetrated the cultural vacuum where I dwelled. The Beatles, of course: even a sheltered 10-year-old watching their first appearance on "The Ed Sullivan Show" could sense that things were about to change.
There was also Herb Alpert and the Tijuana Brass. I wouldn't put them in the same paradigm-shifting category, of course. Nonetheless, with hits such as "The Lonely Bull" and "Spanish Flea," and an album cover that featured a model wearing nothing but whipped cream, the band was certainly part of the conversation.
So, I felt an obligation to attend when Mr. Alpert returned Tuesday night to Café Carlyle with his wife, Lani Hall, whose own contributions to the mood of the times—as lead singer with Sergio Mendes and Brasil '66—weren't inconsequential. They'll be performing at the cabaret through March 21.
Mr. Alpert, who announced from the stage that he turns 80 on March 31, also has a show of his sculpture at the ACA Galleries in Chelsea.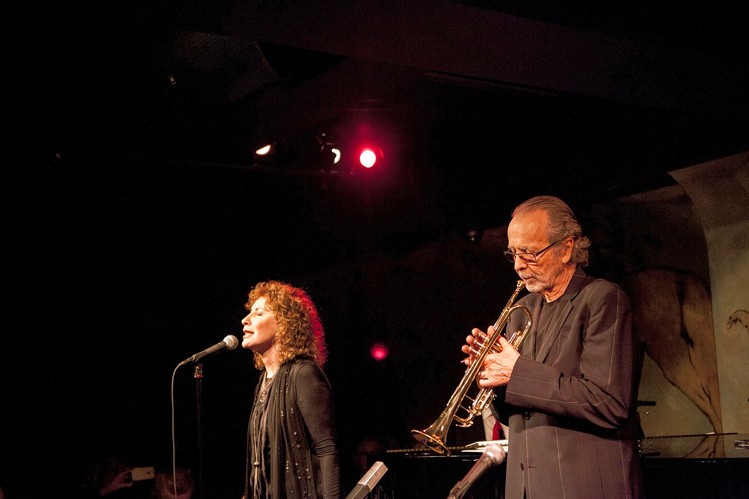 Herb Alpert, the iconic 1960s musician, kicks off a series of shows performing with his wife, recording artist Lani Hall, at the Cafe Carlyle in March. PHOTO: ADRIENNE GRUNWALD FOR THE WALL STREET JOURNAL
Since there was little chance of me interviewing Mr. Alpert at the performance or afterward when he was surrounded by well-wishers, we spoke over the phone the previous week. He was still ensconced at his Malibu home and exhibiting some trepidation about trading 80-degree ocean breezes for New York City's 8-degree arctic blasts. "That weather is scaring the hell out of me," he admitted.
What I wanted to know, among other things, was how his music managed to hold its own in the era of Dylan, the Beatles and the Rolling Stones.
Mr. Alpert's career includes five No. 1 albums and nine Grammys, and he's still in the recording studio. His latest album, out last fall, is titled "In The Mood." And in 2013, President Barack Obama awarded him the National Medal of Arts.
I must have raised the notion of competition, with the Beatles among other bands, which the musician firmly rejected. "It wasn't about any competition," he said. "I'm happy when people are successful. It means more people in the record stores."
As agile a trumpet player as Mr. Alpert remains—his set at the Carlyle ranged from Van Morrison's "Moondance" to Irving Berlin's "Puttin' on the Ritz"—he was an equally talented record executive.
He and partner Jerry Moss started A&M Records in 1962, signing artists such as the Carpenters, Sergio Mendes and Brasil '66, Cat Stevens, Carole King and Peter Frampton, before selling it to Polygram in 1987 for a reported $500 million.
If Mr. Alpert has any regrets regarding the Beatles, it seems only that he didn't sign them. "In 1962 or '63," he remembered, "the Beatles were available for distribution. I wish I had been there. I wasn't even aware they were available."
In the brief but spirited research I performed before Mr. Alpert's Carlyle outing, I learned a couple of new things about him—at least new to me. He's Jewish and grew up in Los Angeles; with a band and a mariachi sound such as the Tijuana Brass, I somehow assumed he was from south of the border. (He jokingly signed off our conversation with "Shalom!")
And through the Herb Alpert Foundation, he's also a significant arts philanthropist. Among the foundation's beneficiaries are the Harlem School for the Arts, which received a $5 million grant in 2012; the school, at 141st Street and St. Nicholas Avenue, added the trumpeter's name, becoming the Harlem School of the Arts: The Herb Alpert Center.
I must confess that I was unaware of the cultural importance of "Whipped Cream and Other Delights" until a couple of friends mentioned the role that the 1965 album cover played in their budding adolescence. It featured model Dolores Erickson wearing nothing but empty calories.
Between songs that included Burt Bacharach and Hal David's "The Look of Love" and Carole King and Gerry Goffin's "Up on the Roof"—accompanied by Ms. Hall, whose voice sounded as just as rich and pure as it had a half-century ago—Mr. Alpert took questions.
He seemed surprised none involved whipped cream.
"My buddies and I would listen to your music in Vietnam," someone shouted.
"And where were you when those songs were being played?" Mr. Alpert asked the rest of the audience.
It was rhetorical question, but people were thinking.