HERB ALPERT'S IN THE MOOD — SENSATIONAL ALBUM KICKS OFF TOUR!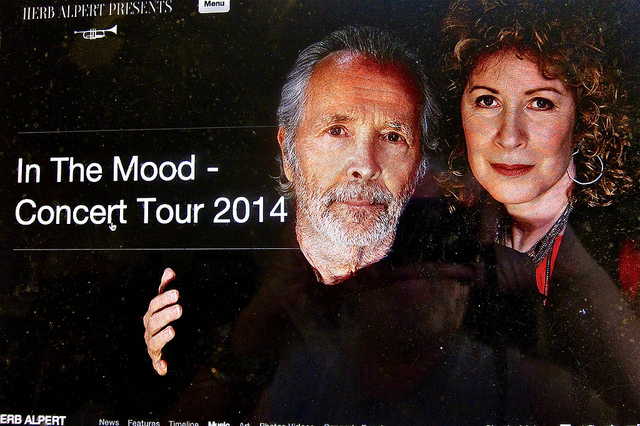 Trumpet icon Herb Alpert and his Grammy award-winning vocalist wife Lani Hall own the great VIBRATO nightclub/restaurant way up on Beverly Glen Circle at Mulholland. Whenever I feel a need for a jazz fix (which is quite often these hectic unsettled days) I hie up there and settle down to an evening of smooth music and good food. Yes, it is probably the best (and last) place in Los Angeles to feature a jazz group almost every evening. But last night was very special 'cause Herb and Lani were kicking off their 15-city tour with an evening devoted to their new CD, IN THE MOOD (Shout Factory). You may recall that Herb, who has sold some 72 million records, won his ninth Grammy award recently, just after he was pictured at the White House receiving the National Medal of the Arts from the President. Last night they joined their fabulous three band members at Vibrato, playing songs from the new disk, standards and originals, including covers of the Everly Brothers and a re-interpretation of "America the Beautiful." Lani joins Herb on five songs on the album and performed several of them last night.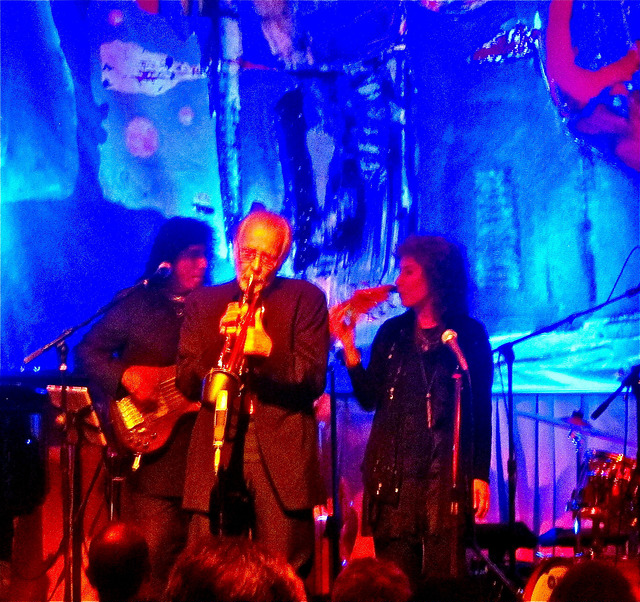 Herb's painting SUN STORM serves as the backdrop for their performance.
When I managed to capture Herb for a few minutes in the Green Room, he humbly told me: "Making music is a natural thing for me to do. I love melodies from old standards and I try to present them in a way that hasn't been heard quite that way before." I told him that I have been playing the CD for days, and commented on the fact that it includes covers of two classic Everly Brothers tracks ("Let It Be Me" and "All I Have To Do Is Dream") which he said had been recorded in response to Phil Everly's death earlier this year. Alpert even revisited his old Tijuana Brass repertoire on two songs, "Spanish Harlem" and "Let It Be Me." I couldn't help saying that he had injected them with a new adventurous spirit….and on the album closer, "America the Beautiful," he employed percussion from all seven continents to reflect the melting pot of the United States! His remake of the 1941 Glenn Miller song, Chattanooga Choo Choo" is given a contemporary zing with electronic and Latin elements….just loved it.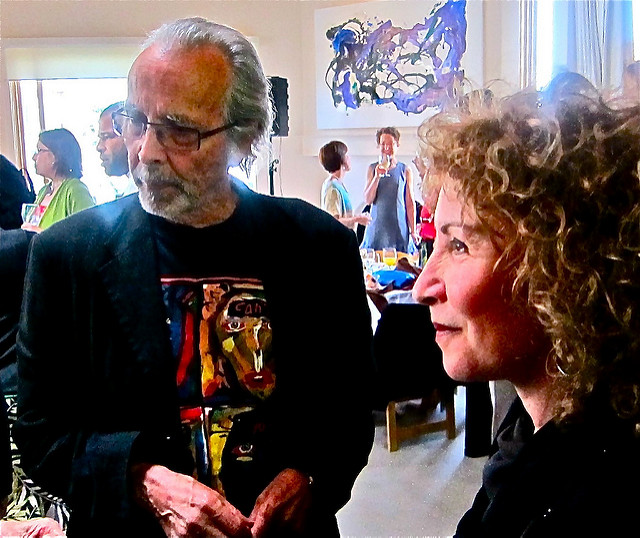 "Few people can claim to be a Renaissance man in this complex age, but Herb Alpert might be one of them," says the New York Times. As I mentioned before, his staggering resume as a solo artist and the leader of the Tijuana Brass resulted in the sale of some 72 million records. He has placed 28 albums in the Billboard 200, including five #1s. He has scored 14 platinum and 15 gold albums, and he is the only artist to reach #1 on the Billboard Hot 100 as both a vocalist and instrumentalist. I remember that at one point Herb and the Brass had four albums simultaneously in the top 10.
I must admit that I have known Herb and his partner, Jerry Moss, since they founded A&M Records in a garage in the early Sixties. Here on Huffington I have reviewed his remarkable coffee paintings and sculptures, including his work in the permanent collection of MOCA. To top off all these accomplishments, Herb and Lani have established a foundation which has donated more that $130 million towards art and music education.. Their tour will begin in Hartford, Conn. And then move to Patchogue, NewYork (really!), Philadelphia, Washington, Alexandra, Va., Chicago, Minneapolis, MN, and return here to California, ending in early December in Hawaii. Their three band members are stars in their own right: Bill Cantos, Mike Shapiro and Hussain Jiffry (guitarist, from Sri Lanka). Herb's 58 year career is at its peak, as is his 41-year marriage to wife Lani. Utterly sublime, that's how I describe this vibrant hour-and-a-half long show. I admit that I would travel anywhere to hear them..and recommend you do the same. And that's why I was shaking my booty at Vibrato last night.

To subscribe to Jay Weston's Restaurant Newsletter (($70 for twelve monthy issues) email him at jayweston@sbcglobal.net.