HERB ALPERT COMES TO ENGLEWOOD MARCH 25
BY JIM BECKERMAN
STAFF WRITER |
THE RECORD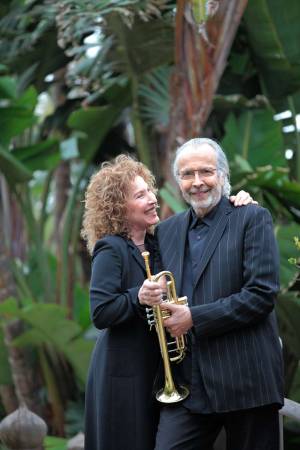 WHO: Herb Alpert with Lani Hall.
WHEN: 8 p.m. Wednesday, Englewood; 8 p.m. Thursday, Morristown.
WHERE: bergenPAC, 30 N. Van Brunt St., Englewood; 201-227-1030 or bergenpac.org; Mayo Performing Arts Center, 100 South St., Morristown; 973-539-8008 or mayoarts.org.
HOW MUCH: $29 to $69, Englewood; $49 to $69, Morristown.
Sixties pop music came in lots of flavors: folk, blues, bubble gum, soft rock, hard rock, acid rock.
And one other style you might not recall: "Mexican fiesta."
Yet it's a fact: Herb Alpert and the Tijuana Brass, in 1966, sold more records than The Beatles (more than 13 million). Fifteen were gold records; six won Grammy awards, five were simultaneously on the Billboard Top 20, a feat that was noted by the Guinness Book of World Records.
"I was just trying to make the music that was coming out of me," says nine-time Grammy winner Alpert (his last was for the 2013 album "Steppin' Out"), the trumpet ace also known as a philanthropist, visual artist and powerhouse record executive. He'll be coming to North Jersey this week with a backing trio and the vocal assistance of his wife, Grammy-winning Lani Hall, who originally sang with Sergio Mendes.
"My wife is a world-class singer," says Alpert, 79. "And the trio is the same guys who have been with me for eight years."
Even if you lived through the '60s, it may be hard to recall just how pervasive Alpert's peppy horns and strumming guitars were on TV and radio.
"Spanish Flea," "Tijuana Taxi" and "Whipped Cream" were everywhere. Stolid citizens were shown bursting into a tricky dance move whenever "The Mexican Shuffle," rechristened "The Teaberry Shuffle" by Clark's Teaberry Gum, played in a series of popular TV ads. For years, the Tijuana Brass was the soundtrack of TV's "The Dating Game." "That was a fortuitous thing that happened, something that helped propel the Brass to greater sales," Alpert says.
No, it's not "mariachi" music, Alpert insists (although some wags were happy to dub it "Ameriachi"). Nor were the musicians Mexican. Comedian Bill Dana, then famous for his "Jose Jimenez" character, quipped that the act was "four lasagnas, two bagels and an American cheese."
But the Tijuana Brass did have its origins in Mexico. Specifically, in the trips that Alpert took to Baja California, for several consecutive years, to see the bullfights.
"I was kind of caught up in the whole festive environment," he says. "There was a brass band in the stands. They were just introducing different events in the bullfight in Tijuana, the main bullring, where they have world-class matadors. It wasn't a mariachi band. Just a few trumpet players: Buh-dahhh, buh-duh-duh-duh-duh–dahhhhhh! And then the bull would come out, and you'd have another little riff. It wasn't really the band. It was me thinking, how can I express that thing I felt for the last three years on a record?"
"The Lonely Bull," the single Alpert produced in 1962, reached No. 6 on the Billboard pop singles chart.
"A lot of advice came from distributors," he recalls. "They said, why don't you take the money and run. They thought it was a fluke."
Instead, Alpert began to release more Mexi-spice singles under the name Herb Alpert and the Tijuana Brass (yes, he'll be doing a medley at his Jersey shows, along with much else, including tunes from his latest album, "In the Mood"). More significantly, he began to put the money back into a fledgling recording business.
Alpert is the "A" in A&M Records (eventually sold to Polygram), which over four decades discovered or scooped up such talent as The Carpenters, Sergio Mendes, Cat Stevens, The Police, Rita Coolidge, Wes Montgomery, Joan Baez, Phil Ochs, Joe Cocker, Styx, Supertramp, Squeeze, Peter Frampton and Joe Jackson. Also the Sex Pistols – for one week.
"There were some inner problems," Alpert recalls. "Their energy was not fun to be around, for one."
Alpert remains, as he began, a performer and composer — both for himself and others (Sam Cooke, Jan and Dean). But it was his own frustrations as an artist that led him, in the early '60s, to explore new career possibilities as a record executive. One experience, in particular.
"I recorded for RCA Victor; it was obviously a major record company," Alpert recalls. "And I was treated like a number. In the recording studio itself they'd ID me: '387421, Take 3.' And the studio itself was very cold-looking. Then, when I was listening to a playback in the control room, I wanted to hear a little more bass. I lifted the bass pot [knob], and the engineer slapped my hand and said, 'Don't ever touch that again. This is a union house.' I thought, isn't the record industry supposed to revolve around the artist?"
A&M, founded in 1962 by Alpert and his partner Jerry Moss and eventually headquartered in the old Charlie Chaplin studios on La Brea Avenue in Los Angeles, was conceived as a very different kind of place: warm, welcoming, artist-friendly. To quirky extremes, even.
"I embedded this huge giant crystal into Studio B, in the wall," Alpert says. "A lot of times musicians would come and just stand in front of it before they would start recording. They would be davening like they were at the Wailing Wall in Jerusalem."
Email: beckerman@northjersey.com