HERB ALPERT BRINGS HIS TRUMPET AND HIS WIFE TO THE VENTURA MUSIC FESTIVAL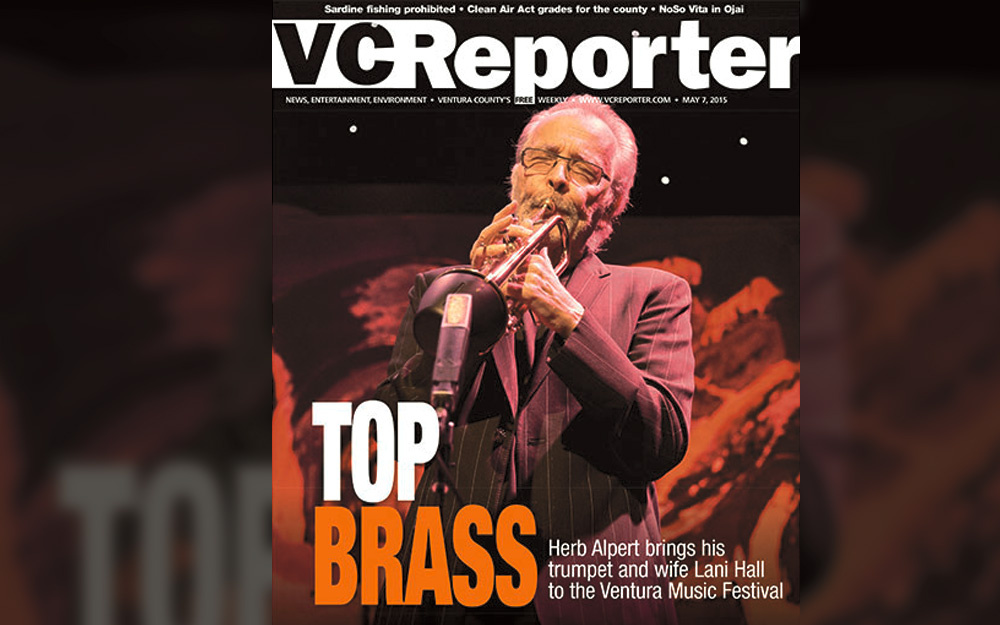 You may not know the titles — "The Lonely Bull," "Rise," "Spanish Flea" (The Dating Game theme song) — but you know the songs to which they belong the moment you hear them. They're by Herb Alpert, perhaps the most famous trumpeter in the world apart from Miles Davis (or possibly Gonzo on The Muppet Show). With more than 72 million records sold — both solo and with the Tijuana Brass — how could he be anything but inextricably etched on the eardrum of the corpus of the culture? He's currently touring with his wife, Lani Hall, the lead singer of Sergio Mendes' group Brasil '66. In the Mood, their latest album of classic standards, forms the basis of the international tour that brings them to the Ventura High School auditorium for this year's Ventura Music Festival. Alpert discussed nuance, Adele and keeping it real during a recent phone interview with VCReporter.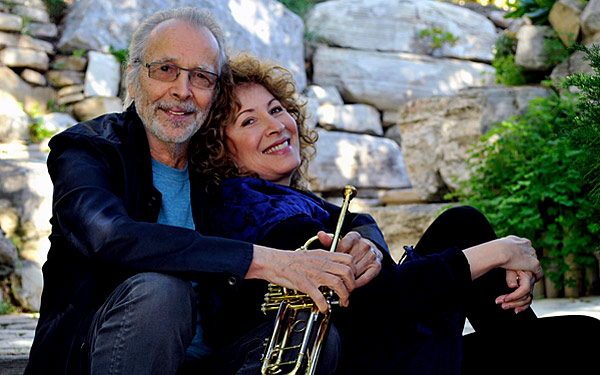 VCReporter: Listening to some of the songs on In the Mood, it seems as though your playing has changed and you've calmed down a lot. That doesn't mean you've become more sedate, but that through the playing on this album, I'm hearing a calmer, more interior voice.
Herb Alpert: That's pretty darned accurate. You're probably right about that. I think I was always interior, but the older you get, the more you're willing to just let it be and be satisfied with that. I'm basically a jazz musician, so having a group together for the last nine years and traveling around the country, doing concerts on and off — to play every night, the more I play, the more I find that I can just lay my soul out, and it all works, without editing. My playing is looser now; it's a little more intense. I think it's deeper.
You can be laid-back but you can still be intense.
The trick is to express yourself. That's what I've been trying to do my whole life. I was never plugged in to "How do I make a hit record?" so much as "How do I make a really good record that turns me on?" I feel like if I can play something that gives me pleasure, and it's fun to play, there's going to be a few other people that might feel the same way.
And yet you still seem really good at making hit records.
I think it's about songs. I think I have a good feel for good songs. It's about melody.
So that's what you were listening for all the time: those melodies.
I worked at Keen Records and I watched (singer) Sam Cooke. Sam was a friend. I watched this guy and he threw some real beautiful things in my way, and I learned a lot from him — the way Sam was, as an artist, and what he was listening to — and how he taught without teaching. He was the first black artist to have his own record label, and he was auditioning artists, and this one artist came in, this kid from the Caribbean, who was really good-looking. This guy with green eyes came in with his little stool and played guitar and was knocking me out. I was watching him and Sam said, "Turn your back on this guy and listen to him for five minutes," which I did. And I didn't get anything! (Laughs.) That's when Sam said, "Man, it doesn't matter if you're black or white, or what kind of echo chamber you're using. The song either makes it or it don't." And that was a big "aha" moment for me, and every time I auditioned people at A&M, it was always with my eyes closed, and I didn't care whether they could dance their ass off or not.
I've heard that's how Elvis listened to performers; he'd just turn his back and listen to their music as they played.
It's like a couple of years ago when we saw Adele at the Grammys, just standing in front of a mic, knocking everyone out without any fancy bullshit. That's an artist.
What's changed physically in the playing for you over time?
Age. (Laughs.) Probably experience. You know, I get more out of the horn now for less effort. I studied with a teacher in New York years ago who taught me the physics of playing the instrument so I know how to make the sound, now. I never knew it, I never thought about it because I started playing when I was 8. He taught me how to get more for less effort. Actually, he wasn't a trumpet teacher, he was just a troubleshooter. He likened the musician to the athlete, where you have to sync your body muscles to rhythm. It's just another way of looking at the instrument; he said the instrument was just another piece of plumbing. This was in the '70s.

How many years had you been playing before you had this epiphany?
I had a terrible time trying to play the instrument around 1969-71. I was going through a divorce . . .
So it was mental.
It was totally mental.
Now that you're in a better place you must play phenomenally well.
Now I'm having a great time. I'm having a great time playing, having a great time doing these concerts with my wife and the same group of guys — three guys on piano, bass and drums — for nine years and we just have a good time, man. It's a great show. People love it. We just got off the road after three weeks, standing ovations every night. It's been beautiful. We play a little Tijuana Brass — everyone gets that. Lani plays a little Brasil '66 medley, everyone's happy with that. Surrounding that is kind of an improv good time.
In the '60s and the '70s, were you listening to many other trumpet players?
No, I didn't make a habit of it. I listened to Miles [Davis].
Who didn't!
Miles pointed the way. I think he was the one jazz artist who really understood the genre. He knew about good songs; he picked great songs. He surrounded himself with wonderful musicians. He understood space. He was dramatic. He was totally willing to just let his thing be heard, and didn't edit it. The guy was great.
Did you ever listen to any of those "out" guys? Trumpeters like Don Cherry? Lester Bowie?
Sure! I had a lesson from Ornette Coleman once. Coltrane was probably the best of all those "out" guys, guys that play fast and out there.
So what'd you think?
For what they do, it's great! I like people that are honest. That's the measure.
Music is a great conduit for honesty.
I think art is. The beauty of art is that there's a mystery to it. You can't put your finger on what that mystery is. You can't identify what you like about a Beethoven symphony. It resonates in the soul, not in the ears, when it works.
There is that enigma to what you do. There is that mystery. Pick a flower because it's beautiful. Pretty soon, it's dead.
I think that's the seductive part of art: the mystery. The big mystery. You stand in front of a Jackson Pollock painting and try to analyze it? You've lost it.
On this tour, are you doing any singing?
Sometimes. It's kind of open. Even though I have a sore throat right now, it doesn't affect me. I can still sing.
And what have you got planned for Ventura?
Everyone's going to have a good time, surrounded by songs from some of our various albums. It's very loose. I have it set up with the musicians that they get to play whatever they want, whenever they want to. The forms can be stretched either way if we choose to. That's what's fun for me to do, every night — it'll be different every night we play.
Do you go into it without any expectations?
Only to be real, man. I'm too old to try to fake it. I just want to be me.